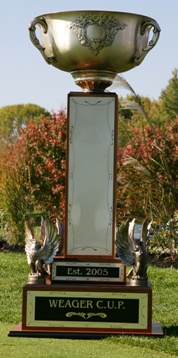 REGISTRATION IS OPEN! The 12th Annual Waeger C.U.P. to benefit the National Collegiate Cancer Foundation's scholarship program will be held at the Links at Gettysburg on Sunday October 9, 2016. Please join us for a day of great golf and friendship!
For more information regarding registration and sponsorships,  please download the 2016 Waeger CUP brochure or email megrodgers11@yahoo.com.
Background
Each year NCCF holds a golf tournament to raise money for our scholarship program. NCCF is one of the only national organizations that provides direct financial assistance to young adults with cancer. Since 2006, NCCF has awarded over 250 scholarships to deserving and inspiring cancer survivors. Proceeds from the event go entirely to our scholarship program. 2015's event raised $30,000 which will go directly to the scholarship program.
Fees & Registration
Golf fees are $115 per person/$460 per foursome. For those only joining the dinner & auction, the fee is $30. To register, please complete the registration  2016 Waeger CUP brochure  or email megrodgers11@yahoo.com with your information and submit your payment online.
Donations & Sponsorships
We have plenty of sponsorship opportunities, ranging from our $100 hole sponsorship to $1,000 title sponsorship. We take all donations, big or small. We can also work with you to enable corporate gifts and matching donations. And we rely on donations of all sorts of items to support our auction and raffle items. We need everything- tickets to Ravens or Redskins games, vacation home donations, gift cards from local restaurants and anything we can get!
To donate a hole or other sponsorships, please click here. To make a donation of goods, please contact Meg Rodgers at megrodgers11@yahoo.com or Patrice Urban at patriceurban@yahoo.com